Antique cutlery
Under this specifications you can find knives, spoons forks. Here you will also find spoons, knifes, forks, fruit cutlerys, fish cutlerys and salatcutlerys. Often plated or silver and mostly it comes in the original box as it was sold it years ago. Most items are gefrabiceerd early 1900 and in very good condition.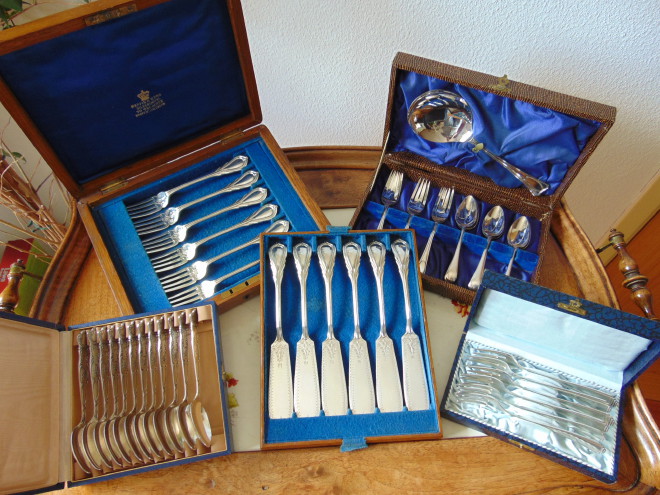 For the shipment of several items we charge shipping the Postl rate.

If you have any questions about the antique cutlery of the Five Spruces you e-mail info@vijfsparren.nl.


Antique silver plated fish cutlery

Antique silver-plated fish cutlery for €. 49.50

∙ Blade length is 17 cm.
∙ Spoon length is 17 cm.
∙ This fish cutlery is made in England, WAS.BS EP.
∙ The knife and the spoon are beautifully engraved, the knife has…

€ 49,50

Antique silver plated butter knives

Six antique silver plated butter knives for €. 69.00

∙ Length blade: 17 cm.
∙ Bone handles.
∙ Manufactured 1900 in England silverplated EPNS.
∙ Three blades are used, three blades are in good condition.
∙ The six…

€ 69,00

11 Antique knives with Hörnen handle

11 Antique knives with Hörnen handle for €. 69,50

∙ Length blade: 24 cm.
∙ Steel knives with horn handles produced by Huon Mons in France around 1910.
∙ The handles are locked in a silver end piece and intermediate piece…

€ 69,50

Antique silvered fruit cutlery

A 7-part antique silvered fruit cutlery in original cassette €. 89.00

∙ Serving spoon length is 22.5 cm.
∙ Length spoons 14 cm.
∙ Spoons tested with stamp.
∙ The set is E.P.N.S. A1 plated.
∙ British made in 1900.
∙…

€ 89,00

12 Art Nouveau silver-plated dessert spoons.

12 Art Nouveau silver-plated dessert spoons. €. 95.00

∙ Dessertspoons length: 14.3 cm.
∙ Signature L. F. Pleet with a brand and 0.2.
∙ The silver-plated dessert spoons are in good used condition and come in a silk-lined box.

€ 95,00

Antique silver plated fish cutlery

Six persons 12 pieces antique silver plated fish cutlery for €. 95.00

∙ Knife length is 20 cm. Width is 2 cm. Weight 36 grams.
∙ Fork length is 17 cm. width is 2 cm. Weight 28 grams.
∙ The antique silver plated cutlery is…

€ 95,00

Antique silver plated tranceer cutlery

Antique silver plated tranceer cutlery for €. 95.00

∙ Fork length is 27 cm.
∙ Blade length 32 cm.
∙ The handles are plated.
∙ The blade and the fork are made of stainless steel.
∙ The trancheer cutlery is beautifully…

€ 95,00

Antique silvered fruit cutlery

A 7-part antique silver plated fruit cutlery art deco style in original cassette €. 99.00

∙ Serving spoon length is 23 cm.
∙ Length spoons 14 cm.
∙ Spoons tested with stamp.
∙ The set is E.P.N.S. 153 plated.
∙ British…

€ 99,00

6 Antique knives with silver handle

6 Antique knives with silver handle for €. 109.00

∙ Length blade: 25 cm.
∙ Steel knives with silver handles.
∙ The handles are available with three different motifs, silver content 800.
∙ These six antique silver knives…

€ 109,00

Antique salad servers

Antiques salad servers for €. 115.00

∙ Salad serving spoon length: 27 cm.
∙ Salad serving fork length 26 cm.
∙ The salad servers has shone silver spacers and dark horn handles.
∙ Light horn spoon and fork.
∙ Very…

€ 115,00

Antique salad couvert

Antique salad couvert for €. 139.00

∙ Salad couvert length: 27.5 cm.
∙ The salad servers have shone silver knobs and horn spoon and fork.
∙ Silver 800, 2nd grade silver with clearly legible silver marks.
∙ The horn…

€ 139,00

Antique silvered fruit cutlery

A 13-piece antique silvered fruit cutlery in original cassette €. 139.00

∙ Serving spoon length is 20 cm.
∙ Forks length 14 cm.
∙ Length spoons 14 cm.
∙ This antique silvered fruit cutlery was produced by Thomas Turner…

€ 139,00

Antique silver plated serving fish cutlery

Antique silver plated serving fish cutlery for €. 145.00

∙ Fish slice length is 31 cm. Width is 4.5 cm.
∙ Fish fork length is 23.5 cm. width is 6 cm.
∙ The handles are made of bone.
∙ The cutlery is beautifully carved…

€ 145,00

Antique silvered fruit cutllery

A six-piece antique silvered fruit cutlery in original cassette €. 145.00

∙ Serving spoon length is 22 cm.
∙ Forks length 14 cm.
∙ Length spoons 13.5 cm.
∙ Spoons tested with stamp.
∙ The set is E.P.N.S.A1.…

€ 145,00

Antique silver plated fish cutlery

Twelve pieces silver plated antique fish cutlery for €. 149.00

∙ Blade length is 21 cm. weight 42 grams.
∙ Fork length is 17 cm. weight 36 grams.
∙ This fish cutlery was made in England around 1930, EPNS A1.
∙ The…

€ 149,00
Offers
Classic Schonwald porcelain tableware
€ 249,00
€ 125,00