Antique table accessoires
In this catagory you will find several antique table accessories such as salt and pepper couples, couples oil and vinegar, pepper - and salt cellars. The antique table accessories can be manufactured from various materials. More information in the product descriptions.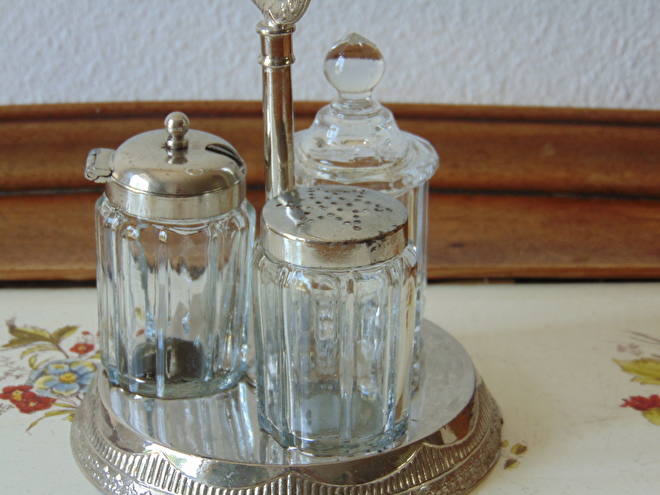 For the shipment we charge the Post rate to your country.

Do you have questions about antique cutlery of the Five Spruces you e-mail info@vijfsparren.nl.


Art Decó 5 piece silver plated menage set

Art Decó 5 piece silver plated menage set €. 45,00

∙ Total height: 18 cm.
∙ Diameter: 19 x 15 cm.
∙ The stand is cast iron and plated in a used condition.
∙ Salt shaker, mustard - oil - and vinegar set.
∙ The jars…

€ 45,00

Antique silver plated menage set

Anitique silver plated menage set for €. 49,00.

∙ Total height: 17 cm.
∙ Diameter: 12.5 cm.
∙ The stand is silvered and in good used condition.
∙ Salt shaker, mustard pot and oil pot.
∙ The jars are ultrasonically…

€ 49,00

Antique silver plated salt and pepper bunch

An antique silver plated salt and pepper bunch for €. 59.00.

∙ Height: 8 cm.
∙ Diameter: 4.5 cm.
∙ EPNS / Electro plated Nickel Silver Sheffield, A1.
∙ This antique silver plated salt and pepper set has user traces.
∙…

€ 59,00

Art Decó silvered menager set

Art Decó silvered menager set for €. 89.50.

∙ Total height: 7.5 cm.
∙ Total diameter: 19 x 11.5 cm.
∙ The dish is silvered and in a good condition.
∙ The lid is silver plated and wrong in perfect condition.
∙ The…

€ 89,50

Art Decó oil and vinegar set.

Art Decó oil and vinegar set for €. 95.00

∙ Dimensions complete set: 19 x 15 x 5.5 cm.
∙ Weight 710 grams.
∙ Oil, vinegar and salt.
∙ The basis of this set is silver plated.
∙ The decanters are made of glass.
∙ The…

€ 95,00

Art decó silver plated menage set

Art Deco silver plated menage set for €. 95.00.

∙ Total height: 24 cm.
∙ Diameter: 14 cm.
∙ The stand is EPNS silver plated and in a very good used condition.
∙ Salt shaker, mustard - oil - and vinegar set.
∙ The jars…

€ 95,00

Vintage silver plated sugar caster

Vintage silver plated sugar caster with removable cap for €. 95.00

∙ Height 17 cm.
∙ Diameter 7 cm.
∙ Weight 200 grams.
∙ The cap is beautifully out.
∙ The spreader is in excellent condition.
∙ The sugar shaker is…

€ 95,00

Antique silver plated toast rack

Antique silver-plated toast rack on elongated silver bowl for €. 109.00

∙ Length toast rack 18 cm.
∙ Toast rack height 11 cm.
∙ Toast rack width 9 cm.
∙ The rack is suitable for 8 toasted sandwiches.
∙ Scale length 24…

€ 109,00

Antique set silver salt cellars

Antique set silver salt cellars with spoons for €. 139.00

∙ The salt shakers are in very good condition.
∙ Height 4 cm.
∙ Diameter 7 cm.
∙ 3rd grade silver.
∙ The spoons are marked unreadable.
∙ In the holders are…

€ 139,00

Silver plated breakfast set.

Antique silver plated breakfast set

Antique silver plated breakfast set for €. 195.00

∙ Total height: 22 cm.
∙ Length: 25 cm.
∙ Width: 16 cm.
∙ Four ball feet.
∙ This antique silver-plated breakfast set consists of two egg cups, butter dish, marmalade…

€ 195,00
Offers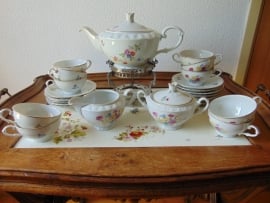 Antique Czech tea service
€ 125,00
€ 65,00