Antique crockery loose
Several individual pieces of antique crockery such as (deck) bowls, teapots and coffee pots but also loose milk jugs, sugar pots and many more items. The individual dishes are from the period 1900 to 1960.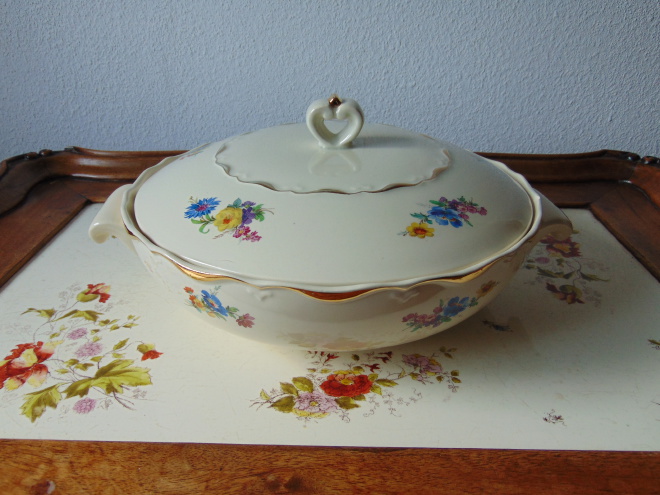 For the shipment of several items we charge the Post rate to your country.

If you have any questions about the antique crockery of the Five Spruces you can call 003150-5497975 or email info@vijfsparren.nl.
Antique soup board

1 Beautiful antique soup board manufactured by Gebrüder Benedict Czechoslovakia for €. 6.50

∙ Diameter soup board is: 24 cm.
∙ The colors of the stripe motif are worn here and there, but clear and fresh.
∙ This antique…

€ 6,50

Antique dinner plates Gebrüder Benedict

2 Beautiful antique dinner plates manufactured by Gebrüder Benedict Czechoslovakia €. 9,00

∙ Dinner plate diameter 24 cm.
∙ The colors of the stripes motif here and there worn but clean and fresh.
∙ One plate has a small…

€ 9,00

Villeroy & Boch Luxembourg egg cups

3 Villeroy & Boch Luxembourg egg cups for €. 12.00

∙ Height: 4.5 cm
∙ Diameter: 5.5 cm.
∙ Beautiful floral pattern.
∙ The Villeroy and Boch Luxembourg egg cups are 100% intact.

€ 12,00

2 Schumann Arzberg (Bavaria) egg cups

2 Schumann Arzberg (Bavaria) egg cups for €. 12.50

∙ Height: 4.5 cm.
∙ Diameter: 4.9 cm.
∙ Beautiful blue decor style Saks.
∙ The two Schumann Arzberg (Bavaria) egg cups are 100% intact.

€ 12,50

Antique coffee bowl

Antique coffee bowl for €. 12.50.

∙ Height bowl: 8 cm.
∙ Diameter bowl with ears: 16 cm.
∙ This antique coffee bowl is 100% intact.

€ 12,50

Antique dinner plates Grinley England

2 Beautiful antique dinner plates manufactured by Grindley England for €. 12.50

∙ Diameter: 25 cm.
∙ The stripe design is hardly worn and the colors still fresh.
∙ This antique breakfast plates brand Grindley England are…

€ 12,50

Two porcelain candlesticks

Two porcelain candlesticks for €. 14,95

∙ Height: 6 cm.
∙ Diameter: 8.5 cm.
∙ These two porcelain candlesticks have a dainty leaf motif and are 100% intact.

€ 14,95

Loose gravy boat limoges

Loose gravy boat limoges for €. 19,50

∙ Diameter 22.5 to 15 cm.
∙ Height 8.5 cm.
∙ This beautiful Limoges gravy boat has very slight traces of users come to the golden rim top.
∙ Gorgeous floral pattern with gold rim.

€ 19,50

Villeroy & Boch Luxembourg egg cups

7 Villeroy & Boch Luxembourg egg cups for €. 24,50

∙ Height: 4.5 cm.
∙ Diameter: 5.5 cm.
∙ Gorgeous red marbled edge.
∙ The Villeroy and Boch Luxembourg egg cups are 100% intact.
∙ There are two sets of 7 pieces available.

€ 24,50

Antique Czech porcelain tea set MCP 1890

An antique Czech porcelain tea set MCP 1890 for €. 32.50.

∙ Teapot Diameter: 17 cm, height 17 cm with cover.
∙ Milk jug diameter: 10 cm, height 7.5 cm.
∙ Sugar bowl diameter: 12.5 cm, height incl. Cover 13 cm. 1 Ear again…

€ 32,50

Steingutfabrik "Torgau" Germany Lampet set.

Steingutfabrik "Torgau" Germany Lampet set for €. 69,00

∙ Lampet can height can 23 cm.
∙ Lampet can diameter is: 14 cm.
∙ Lampet scale height: 12 cm.
∙ Diameter lampet scale: 32 cm.
∙ Diameter comb container: 21.5 x…

€ 69,00

Beautifull antique soup tureen by Boch Belgium

Beautiful antique soup tureen made by Boch in Belgium for €. 89.50.

∙ Tureen diameter is: 25 cm.
∙ Diameter tureen including handles: 30 cm.
∙ Height including soup tureen lid: 16.5 cm.
∙ Tureen height: 11 cm.
∙…

€ 89,50

Limoges bowls "Jules Bloch Paris"

Limoges bowls "Jules Bloch Paris" for €. 245.00

∙ Tureen diameter: 34 x 21 cm.
∙ Tureen height with cover: 18 cm.
∙ Dekschaal diameter: 29.5 x 18 cm.
∙ Dekschaal height including lid: 12 cm.
∙ Salad / potato scale…

€ 245,00
Offers
Antique earthenware coffeepot
€ 32,50
€ 17,50