Antique cake plates sets
Various antique cake plates sets from period between 1900 and 1960. Some matching crockery sets we offer elsewhere, but often are the cake plates sets stand-alone items.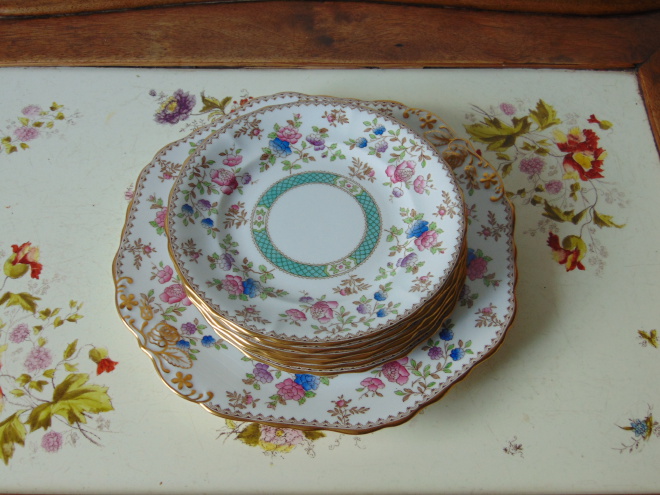 For the shipment of the several items we charge the Post rate to your country.

If you have any questions about the antique cake plates sets you can call 0031505497975 or email info@vijfsparren.nl.
We're happy to serve you.
Schönwald pastry set

Schönwald pastry set from €. 65.00 for €.45.00.

∙ 1 Pie dish diameter: 25.5 cm.
∙ 10 cake plates diamter: 14.7 cm. 2 plates have a small chip in the edge.
∙ This Arzberg baking set is in good used condition.

€ 65,00 € 45,00

Vintage petit four set

A vintage petit four set plateel pottery South Holland for €. 45.00.

∙ Serving plate diameter: 13.5 cm.
∙ Diameter small plates: 8 cm.
∙ The set is in perfect condition.
∙ This rare vintage petitfour set is made around…

€ 45,00

Antique Mosa 13-piece cake set

An antique Mosa 13-piece cake set €. 49.00

∙ Widely diameter: 26 cm.
∙ Cake plates Diameter: 12.5 cm.
∙ 3 Cake plates have a chip and 3 light crackle.
∙ Nice design in beautiful color combination.
∙ This antique Mosa…

€ 49,00

Antique Imperial porcelain cake plates set

An Imperial porcelain 10-piece cake plates set for €. 49.50

∙ Diameter 26 cm large scale.
∙ Diameter cake plates 13 cm.
∙ This set has slight traces of use.
∙ Pretty classy performance.
∙ The Imperial porcelain…

€ 49,50

English antique Spode-Audley cake plates set

An Engles antique Spode-Audley cake plates for €. 85.00

∙ Integrant scale.
∙ Six integrant gift cake plates.
∙ The decoration is in perfect condition.
∙ All parts are numbered separately.
∙ China porcelain.
∙ This…

€ 85,00 € 65,00

Art Decó petitfour set

An Art Decó petitfour set faience fabric South Holland for €. 79.00.

∙ Diameter 15.5 cm serving plate.
∙ 8.5 cm Diameter saucers.
∙ 1 Saucer is slightly discolored.
∙ The set is cool and running in beautiful…

€ 79,00

Art Decó cake set Société Céramique

Art Decó cake set Société Céramique for €. 85.00

∙ Diameter large baking tray: 29 x 25 cm.
∙ Diameter small cake cups: 15 x 15 cm.
∙ The cake set is completely cool, however, set the little cake dish some specimens…

€ 85,00

Art Decó cake plates set

An art deco 7 piece cakes plates set for €. 89.00

∙ Diameter 30 cm large scale.
∙ Diameter 15 cm cake plates.
∙ This pastry presentation set has slight traces of use.
∙ Pretty surprising color combinations.
∙ The art…

€ 89,00
Offers
Antique Arzberg porcelain dinner set Autumn leaves
€ 295,00
€ 145,00