Antique tealights
Antique tealights for your teapot made of the 30s of various materials and supplied as much as possible to its original state. Usually with the original spirit burner voice.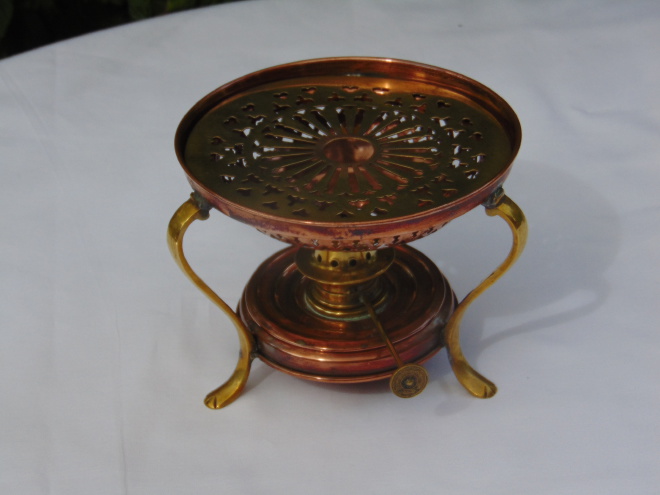 All antique tealights are ultrasonically cleaned and, where necessary, expertly repaired.

The antique tealights can be taken or sent after ordering. We charge the fee of the Post to your country.

If you have any questions about our antique tealights for your teapot you can call: 003150-5497975 or e-mail: info@vijfsparren.nl.
We are happy to assist you.
Antique tealight stove model

Antique tealight stove model for €. 65.00.

∙ Height: 11 cm.
∙ Diameter: 11.5 cm.
∙ Spirit burner in perfect condition.
∙ Red glass undamaged.
∙ The chrome is in excellent condition.
∙ The plate where the coffee - or…

€ 65,00

Art Decó tealight stove model

An Art Decó tealight stove model for €.47.50

∙ Height: 11 cm.
∙ Diameter: 11.5 cm.
∙ Spirit burner in good condition.
∙ Red glasses in undamaged condition.
∙ The chrome is in a good condition.
∙ The part where the…

€ 47,50

Vintage tealight

A vintage tealight for €.55.00.

∙ Height: 11 cm.
∙ Diameter: 12.5 cm.
∙ Spiritus burner in good used condition.
∙ Red glasses in good condition.
∙ The plate on which the coffee - or teapot has stood has user traces…

€ 55,00

Vintage tealight

A vintage tealight for €.45.00.

∙ Height: 11 cm.
∙ Diameter: 12.5 cm.
∙ Spiritus burner in good used condition.
∙ Red glasses in good condition.
∙ The picture on which the coffee - or teapot has stood has user…

€ 45,00

Antique tealight

An antique tealight in very good condition for €.65.00.

∙ Height: 12 cm.
∙ Diameter: 12.5 cm.
∙ Burner in very good condition.
∙ Beautiful blue glass edge in good condition.
∙ Beautiful elegant legs.
∙ The picture…

€ 65,00

Antique tealight with lion ornaments

Antique tealight with lion ornaments for €. 45.00.

∙ Height: 10 cm.
∙ Diameter: 12 cm.
∙ Spirit burner in good used condition.
∙ Red glasses in good condition.
∙ The legs and lions' heads are made of tin, the top -…

€ 37,50

Vintage chromed tealight

Vintage chromed tealight in very good condition for €. 39.00.

∙ Height: 8 cm.
∙ Diameter: 15 cm.
∙ This burning a candle.
∙ Round black wooden legs.
∙ The plate where the coffee - or tea pot on state has slight traces…

€ 39,00

Ceramic tealight Sociéte Ceramique Maestricht

A ceramic tealight Société Céramique Maestricht for €. 95.00

∙ Height: 11 cm.
∙ Diameter: 13 cm.
∙ Loose boat for coal.
∙ Elegant legs and handles.
∙ The ceramic tealight is in perfect condition.

€ 95,00

Vintage chromed tealight

Vintage chromed tealight 50's in very good condition for €. 45.00.

∙ Height: 10 cm.
∙ Diameter: 13 cm.
∙ To heat up the coffee or tea you need to burn a small candle.
∙ Elegant fantasy feet.
∙ The plate where the…

€ 45,00

Antique chromed tealight

Antique chromed tealight in very good condition €. 59.00.

∙ Height: 10 cm.
∙ Diameter: 14 cm.
∙ Spirit burner in very good condition.
∙ Round feet.
∙ The plate where the coffee - or tea pot on state has slight traces…

€ 59,00

Antique tealight heater model

Antique tealight heater model for €. 59.50.

∙ Height: 12 cm.
∙ Bottom diameter 15 cm.
∙ Diameter top: 11.5 cm.
∙ Spirit burner in good condition.
∙ Red glass undamaged.
∙ The chrome is good condition.
∙ The plate…

€ 59,50

Antique tealight heater model

Antique tealight heater model for €. 37.50.

∙ Height: 11 cm.
∙ Diameter: 11.5 cm.
∙ Spirit burner in good condition.
∙ Red glass undamaged.
∙ The chromium is polished in a regular state.
∙ The plate where the coffee…

€ 37,50

Antique copper tealight

Antique copper tealight 1930 €. 55.00.

∙ Height: 12.5 cm.
∙ Diameter: 14 cm.
∙ Combination of red - and yellow brass.
∙ Spirit burner in good condition.
∙ The copper tealight can be completely disassemble and…

€ 55,00

Antique copper tealight

Antique copper tealight 1925/1935 for €. 59.00.

∙ Height: 11 cm.
∙ Diameter: 11 cm.
∙ Combination of red - and yellow brass.
∙ Spirit burner in perfect condition.
∙ The copper tealight can be completely disassemble…

€ 59,00

Antique chromed tealight

Antique chromed tea light in very good condition for €. 65.00.

∙ Height: 10.5 cm.
∙ Diameter: 12.5 cm.
∙ Burner in very good condition.
∙ Red glass rim in perfect condition.
∙ Wonderful elegant legs.
∙ Antique…

€ 65,00
Offers
Antique Arzberg porcelain dinner set Autumn leaves
€ 295,00
€ 145,00