Rates sending goods
Rates sending goods

Many goods can be shipped and well packed send with the post to you. The rates depends on the coutry you live. So wenn you order a product you will see the rates of sending inside Holland, because that is the standard in our webshop. Wait with paying after you get a second invoice with the right rates for your country.
Costs sending goods in Europe:
Europa 1, till 5 kilo's with track and trace:
Belgium, Luxembourg, Denmark (excl. Faroe Islands and Greenland), Germany, France (incl. Corsica and Monaco) Italy (excl. San Marino and Vatican City), Austria, Spain (incl. Balearic Islands, excl. Canary Islands), United Kingdom (excl. Gibraltar and Channel Islands), Sweden. Rates sending goods Europe 1: €. 19,50
Europa 2, till 5 kilo's with track and trace:
Bulgaria, Estonia, Finland, Hungary, Ireland, Latvia, Lithuania, Poland, Portugal (incl. Azores and Madeira), Romania, Slovenia, Slovakia, Czech Republic. Rates sending goods Europe 2 €. 25,00
The rates sending goods outside Europe depend on the country you live.
There are also items in our range which are hard to send. We also can imagine that you want to see a service or a clock first before you decide to buy.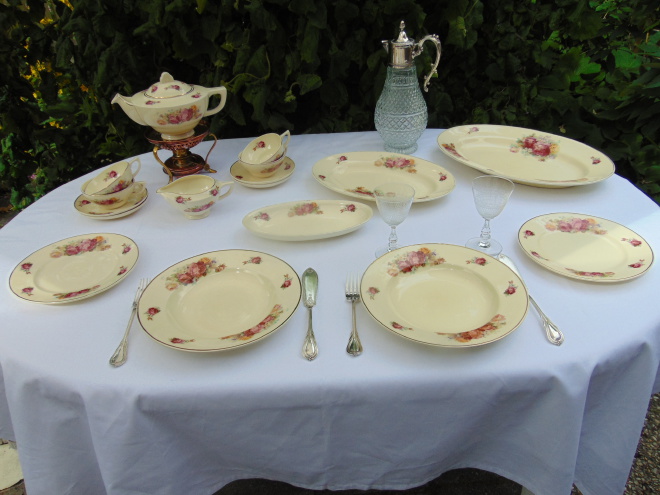 With us you have the ability to request the product that your are interested to come and see and take it immediately if necessary.

Should you have the opportunity to travel to the Netherlands you can make an appointment on a time that fits you. This can be any daytime on a weekday evening or a time on weekends, when it suits you.

Our service goes as far as we think is reasonable and you will find that this will be enough to let you also satisfactorily buy from the Five Spruges.

If you have questions and/or comments about our products please contact us. This can be by telephone: 003150-5497975 or by email: info@vijfsparren.nl. We are happy to assist you.
Offers
Antique Arzberg porcelain dinner set Autumn leaves
€ 295,00
€ 145,00