Antique Mosa Maastricht crockery parts
In this catagory antique Mosa Maastricht loose crockery items such as bowls, cups, tureens and more. The descriptions are clear and the pictures of the items you buy actually.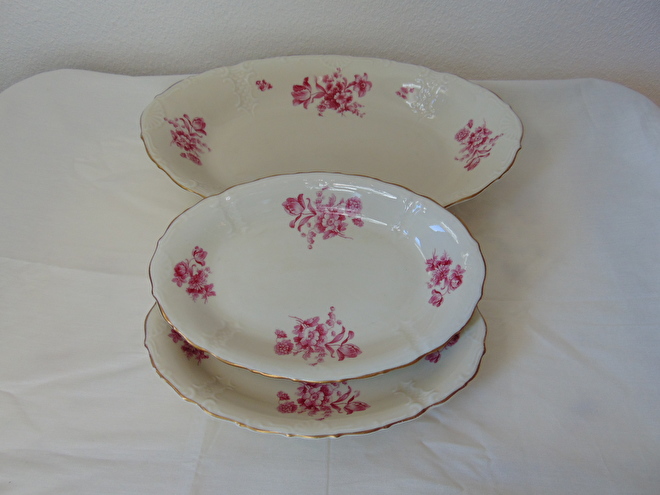 If you have any questions or comments about our antique Mosa Maastricht crockery you can contact us by phone: 003150-5497975 or email: info@vijfsparren.nl.
We are happy to assist you.
Mosa teapot "Noblesse"

A vintage Mosa teapot "Noblesse" for €. 39.50

∙ Height including lid: 29 cm.
∙ Diameter: 9.5 cm. (narrowest part)
∙ This vintage mosaic teapot "Noblesse" is in perfect condition, designed by Edmond Bellefroid.

€ 39,50

Mosa tea service

Mosa tea service "Wilma"

A vintage Mosa tea service "Wilma" for €. 85.00.

∙ Teapot height including lid: 22 cm.
∙ Teapot diameter: 9 cm.
∙ 5 Cup and saucers: cup height: 7.5 c.m. diameter 6.5 cm. dish diameter 12 cm.
∙ Milk jug diameter: 6.5…

€ 85,00

Vintage Mosa teapot "Gracia"

A vintage Mosa teapot "Gracia" for €. 25.00

∙ Height including lid: 18.5 cm.
∙ Diameter: 12.5 cm.
∙ This vintage mosaic teapot "Gracia" is in perfect condition, designed by Camilla Zeguers.

€ 25,00

Mosa tea service

Vintage Mosa tea service "Wilma"

A vintage Mosa tea service "Wilma" for €.60.00.

∙ Teapot height including lid: 22 cm.
∙ Teapot diameter: 9 cm.
∙ 4 Cup and saucers: cup height: 7.5 c.m.diameter 6.5 cm.dish diameter 12 cm.
∙ Milk jug diameter: 6.5…

€ 85,00

Vintage Mosa teapot "Wilma"

A vintage Mosa teapot "Wilma" for €.39.50

∙ Height including lid: 22 cm.
∙ Diameter: 9 cm.
∙ This vintage mosaic teapot "Wilma" has a miniscule chip on the edge.

€ 39,50

Vintage porcelain Mosa teacup

Vintage porcelain Mosa teacup for €.12.50

∙ Height of cups: 5.5 cm.
∙ Diameter cups: 10 cm.
∙ Diameter dish: 14 cm.
∙ This porcelain teacup is manufactured at Mosa, Maastricht in the Netherlands and in a very good used condition.

€ 12,50

Mosa serveerschaal

Mosa serving dish

Small serving dish Mosa Maastricht €. 7.50

∙ Diameter of the scale: 20.5 x 13.5 cm.
∙ Height of the scale is 3 cm.
∙ White full gift ceramic serving dish.
∙ This serving bowl is manufactured by Mosa Maastricht.

€ 7,50

Antique teapot Mosa Maastricht

Antique tea pot Mosa Maastricht: € 24,50

∙ Height: 15 cm.
∙ Diameter: 15 cm.
∙ Wear on the silver lining on the handle, the cap of the lid and the spout through by heavy use.
∙ Chip at the inside edge pot, these are…

€ 24,50

Vintage Mosa teapot

A vintage Mosa teapot for €. 19.00

∙ Height: 14 cm.
∙ Diameter: 12 cm.
∙ Slight discoloration by coffee stains on the inside.
∙ Fresh and bright pink motif.
∙ This vintage Mosa teapot is 100% intact.

€ 19,00 € 9,00

Antique teapot Mosa Maastricht

An antique earthenware teapot Mosa Maastricht €. 19.50.

∙ Height: 23 cm.
∙ Diameter: 23 cm.
∙ Slight discoloration inside by tea stains.
∙ The lid has a hairline crack on the edge a little bin mistake.
∙ The spout has…

€ 19,50

Antique ceramique teapot Mosa Maastricht

An antique ceramique teapot Mosa Maastricht €. 35.00.

∙ Height: 22.5 cm.
∙ Diameter pot: 12 cm.
∙ Slight discoloration inside by tea stains.
∙ This antique ceramic teapot Mosa Maastricht has a beautiful floral pattern…

€ 39,00

Antique serving dish Mosa Maastricht

Beautiful antique serving dish Mosa Maastricht €. 22.50

∙ Diameter of the scale is: 35 x 24 cm.
∙ Height of scale: 3.5 cm.
∙ There is a small flake (2.5 mm.) from the enamel to one of the short sides.
∙ Ecru serving…

€ 22,50

Teapot Mosa Maastricht

Antique ceramique teapot Mosa Maastricht

An antique ceramique teapot Mosa Maastricht €. 39.00.

∙ Height 24 cm.
∙ Diameter pot 14 cm.
∙ No visible traces of users, we have the idea that this teapot is never used.
∙ This antique ceramique teapot Mosa Maastricht…

€ 39,00

Theekopjes, Mosa Maastricht

Antique ceramic teacups "Mosa"

Four antique ceramic teacups "Mosa" with floral pattern for €. 24.50.

∙ Cups of diameter 10 cm.
∙ Cups height 6 cm.
∙ One cup missing a small lacks peace from the edge. For the rest, the cups and saucers 100% cool.
∙…

€ 29,50
Offers
Antique Arzberg coffee and/or tea service
€ 115,00
€ 65,00