Antique dinner and breakfast sets
In this catagory you will find antique dinner and breakfast sets from different manufacturers. As the sets are in the picture, so these are delivered.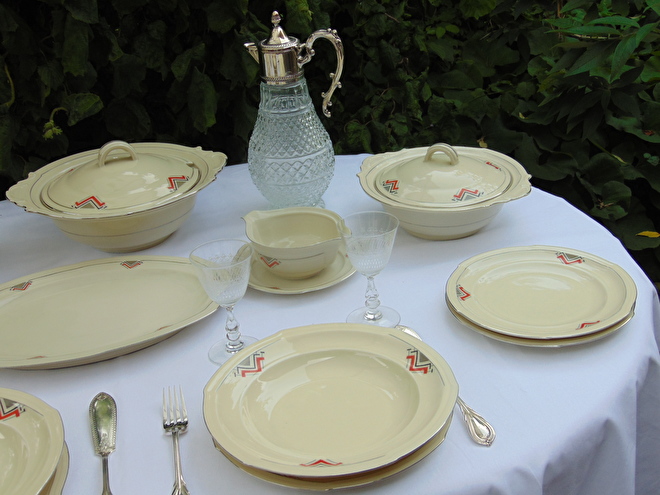 For the shipment of several items we charge the Post rate to your country.

If you have any questions about the antique diner and breakfast sets we sell you e-mail info@vijfsparren.nl.
Antique Czech dinner service

Antique Czech dinner service for €. 125.00.

∙ Soup tureen diameter 24 cm.
∙ Soup tureen height 10.5 cm.
∙ Serving dishes diameter 21.5 cm.
∙ Serving dishes height 8.5 cm.
∙ Sauce bowl diameter 13 cm.
∙ Sauce bowl…

€ 125,00 € 65,00

Schönwald porcelain breakfast set

A classic Schönwald porcelain breakfast set from €. 125.00 for €. 75.00

∙ 12 Breakfast plates diameter: 21 cm. 1 Plate has a chip.
∙ 2 butter fleets, diameter 16.5 cm, height incl. Lid 6 cm.
∙ 6 Serve / meatware dishes…

€ 125,00 € 75,00

Vintage pocelain tea or breakfast set

Vintage porcelain tea or breakfast set for €. 175.00

∙ Diameter plates: 20.5 cm.
∙ Cups diameter: 9 cm.
∙ Cups height: 6 cm.
∙ Diameter dishes: 14.5 cm.
∙ Height teapot with cover: 11.5 cm.
∙ Teapot Diameter: 14.5…

€ 175,00 € 95,00

Mimosas crockery

Antique crockery Mimosas

An incomplete Société Céramique Maestricht antique crockery Mimosas for €. 125.00

∙ Diameter tureen 24.5 cm.
∙ Height tureen with cover are: 18 cm.
∙ Diameter deck scale: 20 cm.
∙ Height deck scale with cover: 13…

€ 125,00

Classic Schonwald porcelain tableware

A classic Schonwald porcelain tableware for breakfast €. 249.00

∙ 10 Breakfast plates diameter: 21 cm. 1 Plate small chip edge.
∙ 1 Butter dish, diameter 16.5 cm, height incl. cover 8.5 cm.
∙ 2 Bread scales.
∙ 4…

€ 249,00 € 125,00

Classis Schönwald tableware for breakfast

A classic Schönwald porcelain tableware for breakfast €. 239.00

∙ 11 Breakfast Plates diameter: 21 cm.
∙ 11 Coffee / tea cups, dish diameter 14.5 cm, height 4.5 cm cup.
∙ 1 Butter fleet, diameter 17.5 cm, height incl.…

€ 239,00 € 125,00

Arzberg porcelain dinner service

Antique Arzberg porcelain dinner set Autumn leaves

Antique Arzberg porcelain dinner set "Autumn Leaves" for €. 295.00

∙ Tureen diameter: 26.5 cm.
∙ Height soup tureen with cover: 19.5 cm.
∙ Diameter deck scale: 23.5 cm.
∙ Height deck scale with cover: 14.5 cm.
∙…

€ 295,00 € 145,00

Antique Société Céramique Maestricht tableware

Antique Société Céramique Maestricht tableware €. 145.00

∙ 10 Soup plates diameter 25 cm.
∙ 11 Breakfast Plates diameter: 21.5 cm.
∙ 1 Large serving dish diameter: 40 x 27.5 cm.
∙ I Medium serving dish diameter: 33 x…

€ 145,00

Cambridge Antique Ivory tableware

Cambridge Antique Ivory tableware for: €. 175.00

∙ 3 Deep dishes diameter: 23.5 cm.
∙ 11 Breakfast plates diameter: 19.5 cm.
∙ 1 Deck scale with lid diameter 18 cm. Height incl. Cover 14 cm.
∙ 1 Round…

€ 175,00

Antique Sarreguemines service "Claude"

Antique Sarreguemines service "Claude": €. 195.00

∙ 6 Dinner plates in diameter 23 cm.
∙ 6 Soup plates diameter: 22.5 cm, height 23.5 cm.
∙ 6 Breakfast plates diameter: 20.5 cm.
∙ 1 Serve dish with lid diameter: 27.5…

€ 195,00

Antique service "Moulin des Loups"

Antique service "Moulin des Loups": € 225.00

∙ 6 Dinner plates in diameter: 23 cm. (1 plate with slight discoloration)
∙ 6 Soup plates in diameter: 23 cm. (1 plate chip edge)
∙ 6 Breakfast Country diameter: 18.5 cm.
∙ 1…

€ 225,00

Limoges dinnerware A. Lanternier & Co.

Antique Limoges dinnerware A. Lanternier & Co. : €. 265.00

∙ 12 Dinner plates diameter: 24.5 cm. (1 plate with chip)
∙ 4 Soup plates diameter: 24.5 cm.
∙ 4 Breakfast Country diameter: 22 cm. (2 plates with chip)
∙ 1…

€ 265,00

Antique Czech dinner service

An antique Czech dinner service for €. 325.00.

∙ Tureen diameter: 32 cm.
∙ Tureen height: 14.5 cm. including lid.
∙ 2 Serving dishes diameter: 27 cm.
∙ Serving dishes height: 12 cm. including lid.
∙ Sauce bowl…

€ 325,00

Antique dinner set Gertrude

Six person antique dinner set Gertrude €. 325.00

∙ 6 Dinner plates diameter: 25.5 cm.
∙ 6 Soup plates diameter: 25.5 cm.
∙ 6 Breakfast Plates diameter: 21 cm.
∙ Soup tureen with lid diameter 24 cm. Height with cover:…

€ 325,00

Classic Hutschenreuter dinner sevice Madeleine

A classic Hutschenreuter dinner sevice Madeleine for €. 385.00

∙ 12 Fruit plates 3 with small chip.
∙ 12 Soup plates 1 with a chip.
∙ 11 Dinner plates 2 with chip.
∙ 1 Soup tureen diameter 24.5 cm, height incl. cover…

€ 385,00
Offers
Classis Schönwald tableware for breakfast
€ 239,00
€ 125,00