Antique tea and coffee sets
In this catagory you will find antique tea and coffee sets from different manufacturers. As the sets are in the picture, so these are delivered.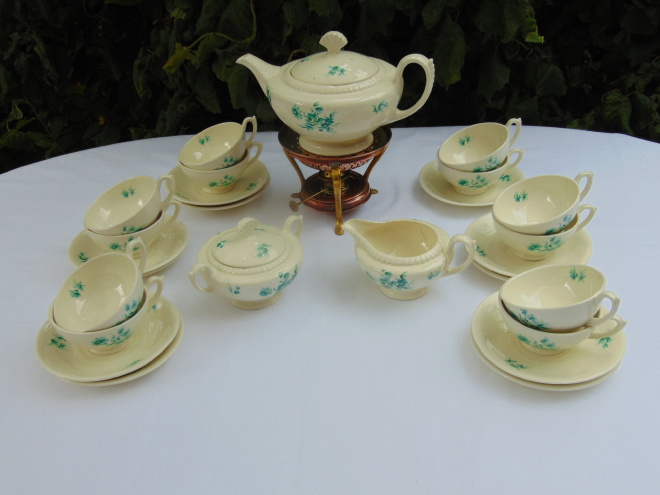 For the shipment of several items we charge the Post rate to your country.

If you have any questions about the antique coffe and tea sets we sell you e-mail info@vijfsparren.nl.
Bauhaus tea set

A Bauhaus tea set for €. 275.00.

∙ Teapot, cream set and 10 cups and saucers.
∙ Diameter of teapot: 15 cm.
∙ Teapot height including lid: 12 cm.
∙ Milk jug diameter: 8.5 cm.
∙ Milk jug height: 5.5 cm.
∙ Diameter…

€ 275,00 € 59,00

Mosa tea service

Mosa tea set "Simone"

A vintage Mosa tea set "Simone" for €. 99.00.

∙ Teapot height including lid: 16 cm.
∙ Teapot diameter: 11.5 cm
∙ 8 Cups and saucers: cup height: 6 c.m. diameter 8.5 cm.
∙ Saucer diameter 14.5 cm.
∙ Milk jug diameter:…

€ 99,00

Art Deco Petrus Regout "Thea" tea set

An Art Deco Petrus Regout "Thea" tea set for €. 1250.00.Teapot.

∙ 6 Cups and saucers.
∙ Cream set.
∙ Tea station cover has chip see photo 7.
∙ Bottom of the teapot, small chip on the stand ring (1 mm.)
∙ The Thea tea…

€ 1.250,00

Vintage Petrus Regout "Modest" tea set

A vintage Petrus Regout "Modest" tea set for €. 145.00.

∙ Teapot height including lid: 13 cm.
∙ Teapot diameter: 13 cm.
∙ 4 Cups and saucers diameter: cups 9.5 cm. height 5 cm. (2 extra cups without saucer)
∙ Dishes:…

€ 145,00

Art decó Petrus Regout tea set "Regina"

An art decó Petrus Regout tea set "Regina" for €. 90.00.

∙ Teapot height including lid: 10.5 cm.
∙ Chip on the spout and tear in the bottom (see photos)
∙ Teapot diameter: 16 cm.
∙ 6 Cups and saucers diameter: cups 11…

€ 90,00

Art Deco Societé Ceramique tea service "Norwich"

Art Deco Societé Ceramique tea service "Norwich" for €. 175.00

∙ Teapot height including lid: 12 cm.
∙ Teapot diameter: 16 cm. Damage to the spout (see photo)
∙ 6 Cups and saucers, diameter cups: 10.5 cm. height: 6…

€ 175,00

Art Deco Societé Ceramique tea set "Gouda"

Art Deco Societé Ceramique tea set "Gouda" for €. 195.00

∙ Teapot height including lid: 14.5 cm.
∙ Teapot diameter: 17.5 cm
∙ 6 Cups and saucers, diameter cups: 11 cm. height: 4.5 cm.
∙ Dishes diameter: 16 cm.
∙ Milk…

€ 195,00

Limoges coffee service

Limoges coffee service including cake plates for: €. 125.00

∙ Coffee pot height: 16 cm. diameter: 12.5 cm.
∙ Milk jug height: 8 cm. diameter: 8.5 cm.
∙ Sugar pot height: 8 cm. diameter: 10 cm.
∙ 6 Cups height: 7 cm.…

€ 125,00

Vintage French porcelain coffee service.

A vintage French porcelain coffee service for €.75.00.

∙ Coffee pot height including lid: 21 cm.Diameter: 11 cm.
∙ 5 Cup and saucers.Height of cup: 6 cm.Diameter cup: 6.5 cm.Diameter dish: 13.5 cm.
∙ Milk jug height: 12…

€ 75,00

Art decó Sphinx tea service "Ans"

An art decó Sphinx tea service "Ans" for €. 175.00.

∙ Teapot height including lid: 12 cm.
∙ Teapot diameter: 16.5 cm.
∙ 1 Milk jug height: 5.5 cm.
∙ 1 Milk jug diameter: 10.5 cm.
∙ Sugar pot height: 8.5 cm.
∙ Sugar…

€ 175,00

Mosa tea service

Vintage Mosa tea service "Wilma"

A vintage Mosa tea service "Wilma" for €.60.00.

∙ Teapot height including lid: 22 cm.
∙ Teapot diameter: 9 cm.
∙ 4 Cup and saucers: cup height: 7.5 c.m.diameter 6.5 cm.dish diameter 12 cm.
∙ Milk jug diameter: 6.5…

€ 85,00

Mosa tea service

Mosa tea service "Wilma"

A vintage Mosa tea service "Wilma" for €. 85.00.

∙ Teapot height including lid: 22 cm.
∙ Teapot diameter: 9 cm.
∙ 5 Cup and saucers: cup height: 7.5 c.m. diameter 6.5 cm. dish diameter 12 cm.
∙ Milk jug diameter: 6.5…

€ 85,00

Petrus Regout tea service "Do not forget me"

An antique Petrus Regout tea service "Do not forget me" for €. 85.00.

∙ Teapot height including lid: 10.5 cm.
∙ Teapot diameter: 17.5 cm.
∙ 6 Cup and saucers diameter: cups 10.5 x 4.5 cm, saucers: 15.5 cm.
∙ Flower…

€ 85,00

Societé Ceramique tea service "Zeist"

Art Deco Societé Ceramique tea service "Zeist" for €. 150.00

∙ Teapot height including lid: 14 cm.
∙ Teapot width: 17 cm.
∙ 6 Cup and saucers, diameter cups: 10.5 x 4 cm. dishes diameter 15 cm.
∙ Milk jug diameter:…

€ 150,00

Art Deco English Royal Cambridge Ivory tea set

A beautiful Art Deco English Royal Cambridge Ivory tea set for €. 125.00

∙ Height teapot with cover:. 14 cm. diameter 13.5 cm.
∙ 12 Cups, height 5 cm. diameter 9.5 cm. Diameter dishes: 13.5 cm.
∙ Milk jug Height: 6 cm.…

€ 125,00
Offers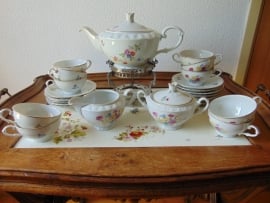 Antique Czech tea service
€ 125,00
€ 65,00