Antique glass bowls
Glass bowls and cake set in various sizes and colors. Often from the Art Deco period in surprising performances which were used as a fruit bowl, biscuits scale and other presentations.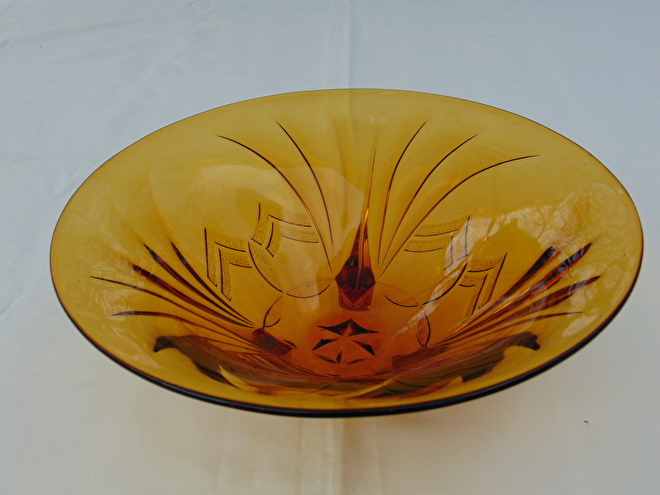 For the dispatch of several articles in Holland we charge the fee of Post.nl. €. 6.95 shipping. Outside Holland the costs depends on the country you live.

Do you have questions about antique glass scales you can call 003150-5497975 or email info@vijfsparren.nl.

We are happy to assist you.


Vintage glass fruit bowls

4 Vintage glass fruit bowls for €. 9.50.

∙ Diameter: 8.5 cm.
∙ Height: 4.5 cm.
∙ The four vintage glass fruit bowls are in excellent used condition and are produced in France in the 60s.
∙ Beautiful orange/pink color.

€ 9,50

Art Decó glas scale for cookies

Beautiful Art Decó glass scale for cookies €. 32.50

∙ Diameter: 24 cm.
∙ Height: 6.5 cm.
∙ Beautiful pink color.
∙ The Art Decó glass scale is in an excellent condition and made in the 30s.

€ 32,50

Beautiful glass fruit test

Beautiful glass fruit test €. 39.00

∙ Bowl diameter 29 cm.
∙ Bowl height: 7 cm.
∙ Scale diameter 22 cm.
∙ Height scale: 2cm.
∙ The scale has slight traces of users. Furthermore, this wonderful glass fruit test 100% mint

€ 39,00

Art Decó glass scale

Beautiful Art Decó glass scale for €. 39,50

∙ Diameter: 16 cm.
∙ Height: 7 cm.
∙ Beautiful yellow/brown color.
∙ The Art Deco glass scale is in an excellent condition and made in the 20s.

€ 39,50

Beautiful Art Deco glass (fruit) dish

Beautiful Art Deco glass (fruit) dish for €. 45.00

∙ Diameter: 31 cm.
∙ Height: 7 cm.
∙ Beautiful blue color.
∙ Elegant legs.
∙ The bowl is in an excellent used condition.
∙ The Art Decó glass (fruit) dish was made in the 1930s.

€ 45,00

Beautiful glass Art Decó "Pavilux" bowl .

Beautiful glass Art Decó "Pavilux" bowl for €. 45.00

∙ Diameter: 24 cm.
∙ Height: 7.5 cm.
∙ Beautiful green / brown color.
∙ The bowl is in an excellent used condition.
∙ The Art Deco bowl was made in the 1930s in…

€ 45,00

Beautiful Art Deco glass (fruit) dish

Beautiful Art Deco glass (fruit) dish for €. 49.00

∙ Diameter: 2.5 cm.
∙ Height: 6.5 cm.
∙ Nice brown color.
∙ Elegant legs.
∙ The bowl is in an excellent used condition.
∙ The Art Decó glass (fruit) dish was made in the 1930s.

€ 49,00

Beautiful art decó glass fruit test

Beautiful glass art deco fruit test €. 49.00

∙ Bowl diameter 22 cm.
∙ Bowl height: 7 cm.
∙ Scale diameter 22 cm.
∙ Height scale: 3 cm.
∙ This magnificent glass art deco fruit test is 100% mint.

€ 49,00

Copier Leerdam litter trays set of pressed glass .

Copier Leerdam nest bowls of pressed glass for €. 59.00

∙ Diameter 6 scales: D. 21 cm. H. 6.5 cm, D17 cm. H. 5.5 cm, D 14 cm. H. 4.5 cm. D. 11 cm. H. 3.5 cm.
∙ Beautiful green color.
∙ The Copier Leerdam litter trays set…

€ 59,00

Vintage glass fruit bowl

Beautiful vintage glass fruit bowl with fantasy motif for €. 59.00

∙ Diameter 30 cm.
∙ Height: 6.5 cm.
∙ Beautiful pink color.
∙ The scale is in excellent condition.
∙ This vintage glass fruit bowl has beautiful…

€ 59,00

Art Decó glass fruit bowl

Beautiful Art Decó glass fruit bowl with floral pattern for €. 69.00

∙ Diameter: 25 cm.
∙ Height: 11 cm.
∙ Beautiful warm yellow color.
∙ The Art Decó glass fruit bowl is in an excellent condition and made in the 30s.

€ 69,00

Beautiful Art Decó Copier Leerdam glass serving scales.

Beautiful Art Decó Copier Leerdam glass serving scales for €. 69.00

∙ Big scale diameter: 27.5 x 11 cm.
∙ Small scales diameter: 15.5 x 9.5 cm.
∙ Special color with a beautiful metallic sheen.
∙ The Copier Leerdam…

€ 69,00

Beautiful glass Art Decó "Pavilux" bowl

Beautiful glass Art Decó "Pavilux" bowl for €. 69.00

∙ Diameter: 27 cm.
∙ Height: 8 cm.
∙ Beautiful pink color.
∙ The bowl is in an excellent used condition.
∙ The Art Deco bowl was made in the 1930s in the Belgian…

€ 69,00

Beautiful glass Art Decó shell shell model

Beautiful glass Art Decó shell shell model for €. 79.00

∙ ​Diameter: 26/27 cm.
∙ Height: 7.5 cm.
∙ Beautiful yellow / brown color.
∙ Three elegant legs.
∙ The bowl is in an excellent used condition.
∙ The Art…

€ 79,00
Offers
Société Céramique Maestricht deck scale
€ 24,50
€ 12,50