Antique Plazuid tableware and crockery
Beautiful antique Plazuid tableware and crockery from the Dutch Plazuid factories. Various models in surprising shapes with beautiful motifs.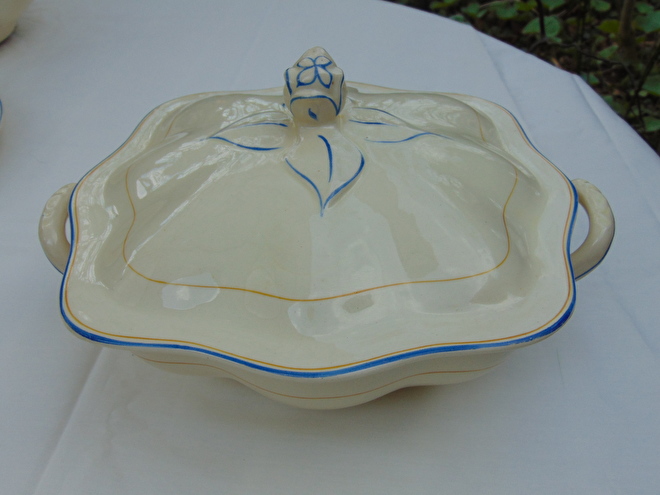 We charge for shipping of the Plazuid sets of crockery in Holland €. 6.95 shipping, the Post.nl rate. Outside Holland the costs depends on the country you live.

Do you have questions or comments about the Plazuid crockery you can call 003150-5497975 or email info@vijfsparren.nl.


Plazuid Art Decó cream set

Plazuid Art Decó cream set for €.67.50

∙ Milk jug diameter: 8 cm.Height: 4.5 cm.
∙ Sugar bowl diameter: 8 cm.Height: 4.5 cm.
∙ Bowl length: 21.5 cm.Width: 13.5 cm.Height: 2.5 cm.
∙ This Plazuid Art Deco room set…

€ 67,50

Plazuid tealight

Plazuid tealight for €.95.00

∙ Diameter: 12 cm.
∙ Height: 9.5 cm.
∙ Original burner.
∙ The Plazuid tealight was designed by Leen Muller around 1928 and was produced by the royal plateau bakery Zuid Holland Gouda Plazuid ..

€ 95,00

Vermu teapot

Vermu teapot for €.120.00

∙ From spout to handle: 26 cm.
∙ Diameter: 17 cm.
∙ Height including lid: 12.5 cm.
∙ The Vermu teapot was designed by Leen Muller around 1930 and was produced by royal pottery Zuid Holland…

€ 120,00

Set antique Plazuid serving dishes

Set antique Plazuid serving dishes for €. 125.00

∙ Diameter: 21 cm.
∙ Height including lid: 15.5 cm.
∙ 1 Deck scale has a marginal chip at the edge of the shell, in addition, these two Plazuid serving dishes are in a…

€ 125,00

An antique Plazuid dinner service

An antique Plazuid dinner service for €. 225.00

∙ Serving dishes diameter: 22.0 cm.
∙ Height serving dishes with cover: 16 cm.
∙ Sauceboat on solid scale: diameter 18 cm scale, bowl diameter: 13 cm, height bowl 7.5…

€ 225,00

Antique Plazuid, flying deer, dinner service

An antique Plazuid, flying deer, dinner service for €. 250.00

∙ 1 Serving bowl Diameter: 33.5 x 25 cm.
∙ 1 Salad / potato dish diameter: 24.5 cm. Height 9 cm.
∙ 2 Serving dishes diameter: 22.5 cm. Height incl. Cover 14.5…

€ 250,00

Antique Plazuid, flying deer, dinner service

An antique Plazuid, flying deer, dinner service for €. 275.00

∙ 1 soup tureen diameter 23.5 cm. Height incl. Cover is 19 cm.
∙ 1 Serving bowl Diameter: 20.5 cm. Height 7 cm.
∙ 1 Salad / potato dish diameter 20.5 cm.…

€ 275,00

Antique porcelain tableware Plazuid

An antique porcelain tableware for dinner Plazuid €. 325.00

∙ Serving dishes Diameter: 26.0 cm.
∙ Height serving dishes with cover: 14 cm.
∙ Saucer on fixed lower plate: diameter dish 18 cm, height 7.5 cm.
∙ 3 Soup…

€ 325,00
Offers
English antique Spode-Audley cake plates set
€ 85,00
€ 65,00