Antique individual deck scales
In this catagory you will find antique individual deck scales from different manufacturers. The deck scales are not part of the sets we sell. The pictures you see are taken by ourselves, so you buy the deck scale as illustrated.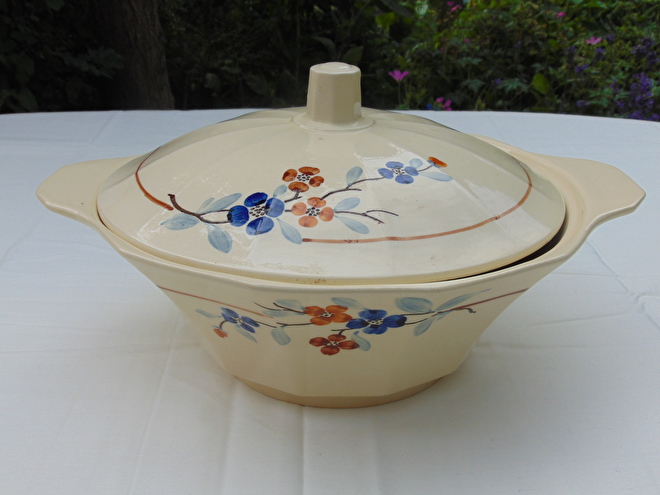 We charge for shipping of the deck scales the Post rate.

Do you have questions about the loose antique deck scales of the Five Spruces you always can call 050-5497975 or email info@vijfsparren.nl.

We are happy to assist you.


Antique serving dish Grindley England

Beautiful antique serving dish manufactured by Grindley England for €. 14.50

∙ Diameter scale is: 23 cm.
∙ Diameter bowl with handles: 26 cm.
∙ Scale height: 7.5 cm.
∙ The stripe design is tainted by the intensive…

€ 14,50 € 7,50

Société Céramique Maestricht deck scale

Société Céramique Maestricht deck scale for €. 24.50

∙ Diameter: 30 x 17 cm.
∙ Height including lid: 12 cm.
∙ This Société Céramique Maestricht deck scale has a green fantasy motif, the inside is buttered but the…

€ 24,50 € 12,50

Vintage Royal Goedewaagen deck scale

Vintage Royal Goedewaagen deck scale for €.17.50.

∙ Height including lid: 10.5 cm.
∙ Diameter: 20.5 cm.
∙ This vintage Goedewaagen deck scale is in perfect condition.

€ 17,50

Antique deck scale Gebrüder Benedict

Beautiful antique deck scale manufactured by Gebrüder Benedict Czechoslovakia €. 19,50

∙ Diameter scale is: 24 cm.
∙ Diameter scale including handles 27 cm.
∙ Height scale including lid: 13 cm.
∙ Diameter lid is: 19.5…

€ 19,50

Antique serving dishes

Beautiful antique serving dishes manufactured in France for €. 49.50.

∙ Diameter scales is: 26 x 16 cm.
∙ Height scales including lid: 12.5 cm.
∙ Height scales: 8.5 cm.
∙ The antique serving dishes have slight traces of…

€ 49,50 € 19,50

Société Ceramique Maestricht deck scale

Société Céramique Maestricht deck scale for €. 19,50

∙ Diameter: 21.5 cm.
∙ Diameter incl handles: 26 cm.
∙ Height: 11 cm.
∙ Height including lid: 15 cm.
∙ The enamel of the Société Céramique Maestricht serving…

€ 19,50

Vintage Petrus Regout deck scale

Vintage Petrus Regout deck scale for €. 22.50

∙ Diameter scale : 21 cm.
∙ Diameter scale including ears: 27 cm.
∙ Height scale: 8 cm.
∙ Height scale including lid: 15 cm.
∙ This light yellow deck scale made by Petrus…

€ 22,50

Antique deck scale Orthez France

Beautiful antique deck scale manufactured around 1930 at Orthez in France for €. 45,00

∙ Diameter scale is: 23 cm.
∙ Diameter scale with handles: 29 cm.
∙ Height scale with cover: 17.5 cm.
∙ Scale height: 11 cm.
∙…

€ 45,00 € 25,00

Antique deck scale Sarreguemines France

Beautiful antique deck scale manufactured around 1920 at Sarreguemines in France for €. 45,00

∙ Diameter scale is: 23.5 cm.
∙ Diameter scale with handles: 30 cm.
∙ Height scale with cover: 18.5 cm.
∙ Scale height: 12…

€ 45,00 € 25,00

Antique deck scale Sarreguemines

Beautiful antique deck scale manufactured around 1900 at Sarreguemines in France for €. 35,00

∙ Diameter scale is: 23.5 cm.
∙ Height bowl: 8 cm.
∙ Hand painted.
∙ This antique deck scale brand Sarreguemines is in a very…

€ 35,00

Antique salad bowl Sarraguemines

Beautiful antique salad bowl manufactured around 1900 at Sarreguemines in France for €. 35,00

∙ Diameter scale is: 27 cm.
∙ Scale height: 9.5 cm.
∙ Hand painted.
∙ This antique salad bowl of the Sarreguemines brand is…

€ 35,00

Société Ceramique Maestricht deck scale

Société Céramique Maestricht deck scale for €. 35,00

∙ Scale diameter: 21.5 cm.
∙ Diameter scale incl handles: 25 cm.
∙ Scale height: 10.5 cm.
∙ Height scale including lid: 17 cm.
∙ Société Céramique Maestricht…

€ 35,00

Société Ceramique Maestricht deck scale

Société Céramique Maestricht deck Scale for €. 42.50

∙ Scale diameter: 21.5 cm.
∙ Diameter Scale incl handles: 25 cm.
∙ Scale height: 10.5 cm.
∙ Height scale including lid: 17 cm.
∙ Société Céramique Maestricht…

€ 42,50

Antique porcelain serving dishes set Windsor England

Beautiful antique porcelain serving dishes set manufactured by Windsor England for €. 89,50

∙ Soup tureen diameter is 26.5 cm.
∙ Height soup tureen with cover are:. 20 cm.
∙ 2 Serving dishes diameter is: 20.5 cm.
∙…

€ 89,50 € 45,00

Set Petrus Regout scales

Vintage set Petrus Regout scales

A set vintage Petrus Regout scales for €. 89.00

∙ Diameter serving dishes with lid: 22 cm.
∙ Height serving dishes with cover: 10.5 cm.
∙ Serving dishes height: 8 cm.
∙ Tureen diameter: 24 cm.
∙ Height soup tureen…

€ 89,00 € 45,00
Offers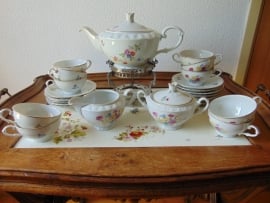 Antique Czech tea service
€ 125,00
€ 65,00