Antique individual serving dishes
In this catagory you will find antique individual serving dishes from different manufacturers. The serving dishes are not part of the sets we sell. The pictures you see are taken by ourselves, so you buy the shell as illustrated.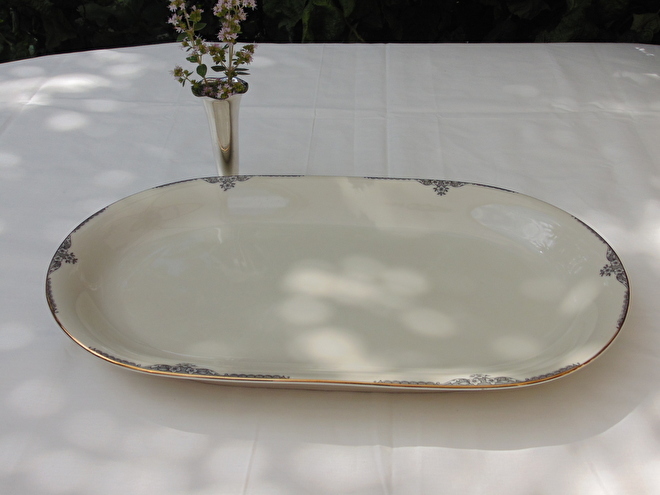 For the transmission of the individual serving dishes we charge €. 6.95 shipping, the Post.nl rate. Outside Holland the costs depends on the country you live.

Do you have questions about the loose antique serving dishes of the Five Spruces you always can call 003150-5497975 or email info@vijfsparren.nl.

We are happy to assist you.


Mosa serveerschaal

Mosa serving dish

Small serving dish Mosa Maastricht €. 7.50

∙ Diameter of the scale: 20.5 x 13.5 cm.
∙ Height of the scale is 3 cm.
∙ White full gift ceramic serving dish.
∙ This serving bowl is manufactured by Mosa Maastricht.

€ 7,50

Antique porcelain Arzberg serving dish

Antique porcelain Arzberg serving dish motif "Autumn Leaves" for €. 15,00

∙ Diameter scale: 22 x 12.5 cm.
∙ Height scale: 3.5 cm.
∙ This antique porcelain Arzberg serving dish motif "Autumn Leaves" is 100% intact.

€ 15,00 € 9,00

Antique porcelain Arzberg serving dish

Antique porcelain Arzberg serving dish motif "Autumn Leaves" for €. 24,50

∙ Diameter scale: 33.5 x 20.5 cm.
∙ Height scale: 3.5 cm.
∙ This antique porcelain Arzberg serving dish motif "Autumn Leaves" is 100% intact.

€ 24,50 € 12,50

Antique meat scale Société Céramique Maestricht

Antique meat scale Société Céramique Maestricht for €. 14,50

∙ Diameter meat scale: 32.5 x 22 cm.
∙ Meat scale height: 3 cm.
∙ This meat scale is 100% intact.
∙ This meat scale of Société Céramique Maestricht was…

€ 14,50

Antique porcelain Arzberg serving dish

Antique porcelain Arzberg serving dish motif "Autumn Leaves" for €. 32,50

∙ Diameter scale is: 38 x 22.5 cm.
∙ Height scale: 3.5 cm.
∙ This antique porcelain Arzberg serving dish motif "Autumn Leaves" is 100% intact.

€ 32,50 € 17,50

Antique serving dishes Petrus Regout

Antique serving dishes Petrus Regout for €. 19,50

∙ Diameter scale: 24 x 13.5 cm.
∙ Height scale: 2.5 cm.
∙ The color is off-white.
∙ These scales are 100% intact.
∙ The serving dishes Patrus Regout produced 1st half…

€ 19,50

Antique Petrus Regout Wellington Scale

Antique Petrus Regout Wellington scale €. 22,50

∙ Diameter scale is: 32 cm.
∙ Height bowl: 8 cm.
∙ In this white deckscale Petrus Regout are motives glazed.
∙ The scale has two old cracks in the rim and is heavily…

€ 22,50

Antique serving dish Mosa Maastricht

Beautiful antique serving dish Mosa Maastricht €. 22.50

∙ Diameter of the scale is: 35 x 24 cm.
∙ Height of scale: 3.5 cm.
∙ There is a small flake (2.5 mm.) from the enamel to one of the short sides.
∙ Ecru serving…

€ 22,50

Société Céramique Maestricht serving dish

Société Céramique Maestricht serving dish for €. 22.50

∙ Diameter: 39.5 x 26.5 cm.
∙ Height: 3.5 cm.
∙ This Société Céramique Maestricht serving bowl is 100% intact.

€ 22,50

Vintage pastel serving dish Petrus Regout

Vintage pastel serving dish Petrus Regout for €. 24.50

∙ Diameter scale is: 32.5 x 22 cm.
∙ Height scale: 3.5 cm.
∙ This scale is 100% intact.
∙ This vintage pastel serving dish Petrus Regout was manufactured in the…

€ 24,50

Porcelain serving dishes

Antique porcelain serving dishes

Antique porcelain serving dishes for €. 49.50

∙ Diameter large scale: 36.5 x 23 cm.
∙ Height large scale is large: 6 cm.
∙ Diameter smaller scale: 24 x 13.5 cm.
∙ Smaller scale height: 4 cm.
∙ These antique porcelain…

€ 49,50 € 29,50

Société Céramique Maestricht potato scale

Société Céramique Maestricht potato scale for €. 30.00. Diameter: 25 cm.
Height: 10 cm. This Société Céramique Maestricht potato scale is a colorful floral pattern is 100% intact. Opti-Decó is part of Optitime watches Holland.

€ 30,00

Société Céramique Maestricht salad / vegetable dish

Société Céramique Maestricht salad / vegetable dish for €. 30,00

∙ Diameter: 22.5 cm.
∙ Height: 8.5 cm.
∙ This Société Céramique Maestricht salad / vegetable dish is a colorful floral pattern is 100% intact.

€ 30,00

Société Céramique Maestricht serving dish

Société Céramique Maestricht serving dish for €. 30,00

∙ Diameter: 33 x 22.5 cm.
∙ Height: 3 cm.
∙ This Société Céramique Maestricht serving dish has a colorful floral pattern is 100% intact.

€ 30,00

Antique Petrus Regout Wellington scale

Antique Petrus Regout Wellington scale €. 34.50

∙ Diameter scale is: 26 cm.
∙ Scale height: 6.5 cm.
∙ In this white deck scale of Petrus Regout the motives are glazed.
∙ The antique Petrus Regout Wellington scale is…

€ 34,50
Offers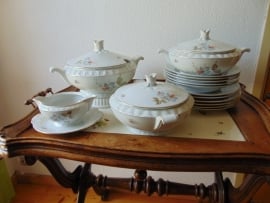 Antique Czech dinner service
€ 125,00
€ 65,00