Uranium glass
Uranium glass, first a short explanation with thanks to Wikipedia:
Uranium glass is glass to which a uranium compound has been added, often uranium dioxide or sodium diurate. Usually these are small amounts of uranium (2%). The glass has a green or yellow color that glows (fluoresces) under ultraviolet radiation. It is low radioactive and not harmful to health.
Uranium glass was produced on a fairly large scale between 1870 and 1940. It has been used in art objects, lamps, dishes, medicine bottles, household objects and jewelery. The Dutch designers Copier and Lanooy and the architect Berlage also worked with uranium glass. Nowadays it is only made on a very limited scale. In the Dutch language area, uranium glass is mainly known under the name of annagroen glass and is a popular collector's item.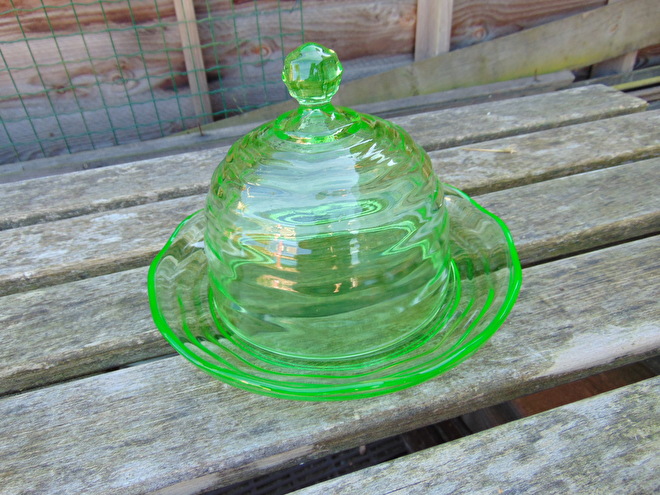 At the Five Spruces you will find a very large collection of various objects. Think of glasses, carafes, candlesticks, water jugs, trays, bowls and much more.
We charge for the shipment of the uranium glass items the Post rate.
If you have any questions or comments about the uranium glass collection of the Five Spruces, you can call 0031599-768532 or email info@vijfsparren.nl.

BEAUTIFUL THINGS, THAT'S WHAT WE LOVE !!
Uranium glass ice cup

Uranium glass ice cup, 1 piece: €. 12,00

∙ Diameter is 9.5 cm.
∙ Height is 7.5 cm.
∙ The base of uranium glas green ice cup has a raised edge.
∙ The ice cup is circular shaped constructed and manufactured at the Crystal…

€ 12,00

Uranium glass green bowl

Uranium glass green bowl: €. 15.00

∙ Diameter: 10 cm.
∙ Height: 5.5 cm.
∙ Uranium glass green bowl with a decorative motif and is in perfect condition.

€ 15,00

Uranium glass green bowl

Uranium glass green bowl: €. 15.00

∙ Diameter 12.5 cm.
∙ Height is 4 cm.
∙ Uranium glass green bowl with a decorative motif and in perfect condition.

€ 15,00

Uranium glass pudding dish

Uranium glass pudding dish: €.17.50

∙ Diameter: 12 cm.
∙ Height: 6.3 cm.
∙ The uranium glass dish has a decorative design and is in perfect condition.
∙ We have 2 more dishes available.

€ 17,50

Uranium glass jar with lid

Uranium glass jar with lid for €. 32.00

∙ Height including lid: 5.5 cm.
∙ Diameter: 8 cm.
∙ The wall of the jar is very slightly angular.
∙ Minimal damage to the lid edge.

€ 32,00

Annagreen glass bonbon dish

Annagreen glass bonbon dish: €. 32.50

∙ Diameter including handles: 17 cm.
∙ Diameter solo: 14 cm.Diameter foot: 7.5 cm
∙ Height: 8.5 cm.
∙ The green-green glass bonbon dish is in perfect condition.

€ 32,50

Beautiful uranium glass candlesticks

Beautiful uranium glass candlesticks for: €. 45.00

∙ Diameter foot: 9 x 5.5 cm.
∙ Diameter top: 3.5 cm.
∙ Height is 14.5 cm.
∙ These uranium glass cable drivers are in perfect condition.

€ 45,00

Uranium glass bowl set with three small bowls

An uranium glass bowl set with three small bowls for: €. 45.00

∙ Diameter scale: 22 cm.
∙ Height of scale: 8 cm.
∙ Diameter small dishes: 12 cm.
∙ Height small dishes: 4.5 cm.
∙ This uranium glass set is in a good…

€ 45,00

Uranium glass jar with lid

Uranium glass jar with lid for €. 45.00

∙ Height including lid: 7 cm.
∙ Diameter: 9 cm.
∙ The wall of the jar is very slightly angular.
∙ Minimal damage to the lid edge.

€ 45,00

Uranium glass pepper and salt set

Uranium glass pepper and salt set: €. 57,50

∙ Pepper spreader height: 7 cm.
∙ Salt spreader height: 8.5 cm.
∙ Black baker's caps.
∙ Black glass stand.
∙ Diameter dish: 12.5 x 7 cm.
∙ This uranium glass set is in…

€ 57,50

Beautiful uranium glass water jug

Beautiful uranium glass water jug for: €. 65.00

∙ Diameter is 13 cm.
∙ Height is 17 cm.
∙ Richly decorated with floral motif around and in the bottom.
∙ This uranium glass water jug is in very good condition.

€ 65,00

Uranium glass cream set

Uranium glass cream set €.65.00

∙ Milk jug height: 10.5 cm.
∙ Milk jug diameter: 6.5 cm.
∙ Sugar tray height: 6.5 cm.
∙ Sugar tray diameter: 8.5 cm.
∙ Diameter dish: 21.5 x 13 cm.
∙ The sugar tray has slight traces…

€ 65,00

Uranium glass cheese jar

Beautiful uranium glass cheese jar for: €. 75.00

∙ Diameter of the base: 23 cm.
∙ Height of the base: 3 cm.
∙ Diameter dome: 15 cm.
∙ Height of the bell: 14.5 cm.
∙ This uranium glass cheese dome is in a very good condition.

€ 75,00

Uranium glass cream

Uranium glass cream set for €. 75.00

∙ Milk jug height: 8 cm.
∙ Milk jug diameter: 5.5 cm.
∙ Sugar bowl height: 6 cm.
∙ Sugar bowl diameter: 9 cm.
∙ Height spoon vase: 7.5 cm.
∙ Diameter of spoon vase: 65 cm.
∙…

€ 75,00

Uranium glass fruit bowl

Beautiful uranium glass fruit bowl for €. 75.00

∙ Diameter fruit bowl: 30 x 18.5 cm.
∙ Height 10.5 cm.
∙ This uranium glass fruit bowl is in very good used condition.

€ 75,00
Offers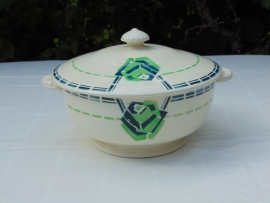 Antique deck scale Orthez France
€ 45,00
€ 25,00