Uranium glass glasses
Uranium glass glasses
A separate page for the wine and drinking glasses made of uranium glass. Large assortment with tight glasses and glasses with a small work.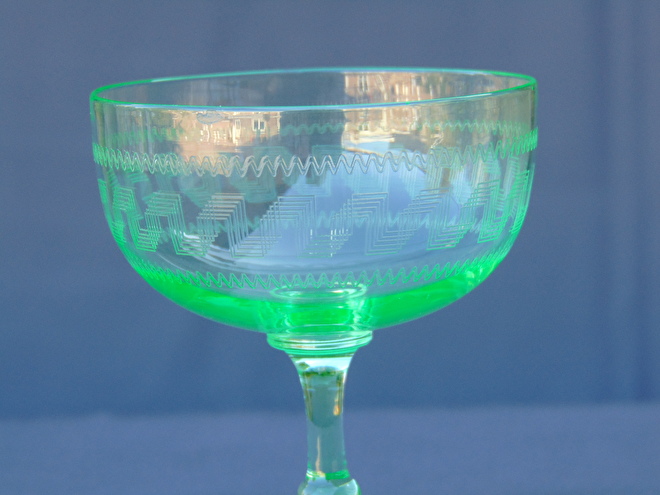 We charge for the shipment of the uranium glass articles the Post rate. Of course you can also buy these glasses in our store at the Musselweg 142, 9584 AH Mussel. We are open every Friday, Saturday and Sunday from 13.00 hrs. to 17.30 hrs.
If you have any questions or comments about the uranium glass drinking glasses collection of the Five Spruces, you can call 0031599-768532 or email info@vijfsparren.nl.

BEAUTIFUL THINGS, THAT'S WHAT WE LOVE !!
Uranium glass wine glass

Uranium glass wine glass per piece: €.12.50

∙ Diameter: 6.5 cm.
∙ Height: 13.5 cm.
∙ The uranium glass wine glass has a decorative design and is in very good condition.
∙ We have 4 of these glasses in stock.

€ 12,50

Uranium glass wine glass

Uranium glass wine glass: €. 14.50

∙ Diameter: 6 cm.
∙ Height: 12 cm.
∙ The uranium glass wine glass has a decorative design and is in very good condition.

€ 14,50

Uranium glass green liqueur glass

Uranium glass green liqueur glass piece: €. 15.00

∙ Diameter is 4.5 cm.
∙ Height is 8.5 cm.
∙ Uranium glass green liqueur glass with a decorative pattern and in perfect condition.

€ 15,00

Uranium glass wine glass

Uranium glass wine glass: €.15.00

∙ Diameter: 7 cm.
∙ Height: 12 cm.
∙ The chalice clear glass and the foot uranium glass.
∙ The uranium glass wine glass is completely cool.
∙ We have 2 copies in stock.

€ 15,00

Uranium glass cup

Uranium glass cup: €. 17.50

∙ Diameter: 8.5 cm.
∙ Height: 5 cm.
∙ The uranium glass cup is completely cool.

€ 17,50

Uranium glass wine glass

Uranium glass wine glass: €. 17.50

∙ Diameter: 6 cm.
∙ Height: 12 cm.
∙ The chalice is uranium glass and the foot is white.
∙ The uranium glass wine glass is nicely tight and completely cool.

€ 17,50

Uranium glass wine glass

Uranium glass wine glass: €. 17.50

∙ Diameter: 6.5 cm.
∙ Height: 12.5 cm.
∙ The chalice is uranium glass and the foot is white.
∙ The uranium glass wine glass is very fine-tuned and completely cool.

€ 17,50

Uranium glass wine glass

Uranium glass wine glass: €. 17.50

∙ Diameter: 6.5 cm.
∙ Height: 12 cm.
∙ The chalice is uranium glass and the foot is white.
∙ The uranium glass wine glass is nicely tight and completely cool.

€ 17,50

Uranium glass wine glass

Uranium glass wine glass: €.17.50

∙ Diameter: 7 cm.
∙ Height: 12 cm.
∙ The chalice is uranium glass and the foot is white.
∙ The uranium glass wine glass is firmly executed completely cool.
∙ We have 2 glasses in stock.

€ 17,50

Uranium glass wine glass

Uranium glass wine glass: €. 17.50

∙ Diameter: 6 cm.
∙ Height: 14 cm.
∙ The chalice is uranium glass and the foot is white.
∙ The uranium glass wine glass is very fine-tuned and completely cool.

€ 17,50

Uranium glass wine glass

Uranium glass wine glass: €. 17.50

∙ Diameter: 6.5 cm.
∙ Height: 11 cm.
∙ The chalice is uranium glass and the foot is white.
∙ The uranium glass wine glass is very fine-tuned and completely cool.

€ 17,50

Uranium glass wine glass

Uranium glass wine glass: €. 19.50

∙ Diameter: 7.5 cm.
∙ Height: 11 cm.
∙ The uranium glass wine glass has a decorative design and is in good condition, only a small chip in the rim.
∙ Both the leg and the calyx are…

€ 19,50

Uranium glass wine glass

Uranium glass wine glass: €.22.50

∙ Diameter: 7 cm.
∙ Height: 12 cm.
∙ The chalice clear glass and the foot uranium glass.
∙ The uranium glass wine glass is completely cool.

€ 22,50

Uranium glass wine glass

Uranium glass wine glass: €. 22.50

∙ Diameter: 6.5 cm.
∙ Height: 14 cm.
∙ The chalice is uranium glass and the foot is white.
∙ The uranium glass wine glass is nicely tight and completely cool.

€ 22,50

Uranium glass wine glass

Uranium glass wine glass: €. 22.50

∙ Diameter: 7.5 cm.
∙ Height: 15 cm.
∙ The chalice is uranium glass and the foot is white.
∙ The uranium glass wine glass is very fine-tuned and completely cool.

€ 22,50
Offers
Antique porcelain serving dishes
€ 49,50
€ 29,50