Paintings made by Heleen Velthoen-de Haas
Heleen Velthoen-de Haas

Artist Heleen lives in Numansdorp and is affiliated with the Doesburgs Artists collective. She paints and prefers to do this intuitively, her style is abstract but almost always with people. She uses acrylic paint for painting and preferably does this on large canvases. Heleen likes to work with cheerful colors where red usually predominates. Friends, other people around her and museum visits throughout the Netherlands are a great source of inspiration for her.
Heleen will soon be opening her new studio and she will be inspired in a new environment for new (painting) work. She believes that her life has already been mapped out, but the side roads are also a surprise for her.
Let yourself also be surprised by Heleen Velthoen-de Haas in the future.
Heleen will soon be exhibiting at the Ludiek cultural center in Strijen.
Offers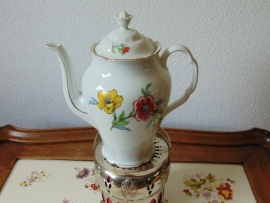 Antique porcelain teapot Victoria
€ 29,50
€ 17,50