Marianne Blok
Marianne is a self-taught painter.
She is blessed with an artistic gene because her grandfather was an artist by profession.
His works can still be found regularly in galleries, art auctions and in the municipal museum in The Hague.
Her uncle was a teacher at the Rietveld Academy and his sculptures can be found in Amsterdam, Utrecht and The Hague, among others.
Her mother studied at the art academy and was also an artist.
Marianne started drawing at the age of 36, after which she switched to acyl and oil paint on linen and various other materials.
Her work is very diverse: 20th-century expressionism, realistic, characteristic, but above all powerful and colorful.
She paints portraits as aptly as possible, full of personality and character.
Marianne has also made a series of paintings for the Orange Babies Foundation, the proceeds of which go to the foundation when sold.
Marianne is a member of the HWK (Hoeksche Waardse Kunstenaars) and regularly exhibits at galleries and municipalities.
In addition to the existing paintings that are for sale, she often paints on commission.
For questions and more information about her work:
T: 06-41312646
M: marblok59@hotmail.com
W: www.ateliermar.nl
Offers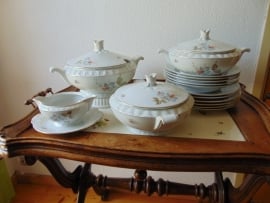 Antique Czech dinner service
€ 125,00
€ 65,00