Liesbeth van Welbergen
My name is Liesbeth van Welbergen. After 25 years of painting in various techniques, I have become fond of sculpture since 2003. When doing a soapstone workshop, I was fascinated by the stone and what emerged from it. Since then I have done almost nothing more than sculpting but now mainly in harder stones such as alabaster, serpentine, marble and sometimes even in soapstone.
My work is mostly intuitive / abstract but lately also figurative by making torsos, both male and female. From 2003 I worked at Frederika de Vries, intuitive soapstone sculpting. From 2006 at Sculptor Esther Velzeboer, sculpting in hard stone and model after wax and clay (bronze) model.
W: www.welbelart.com
Tel: 06-29 22 40 51
Offers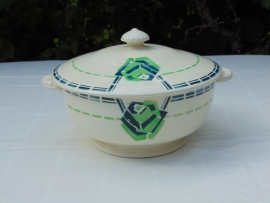 Antique deck scale Orthez France
€ 45,00
€ 25,00